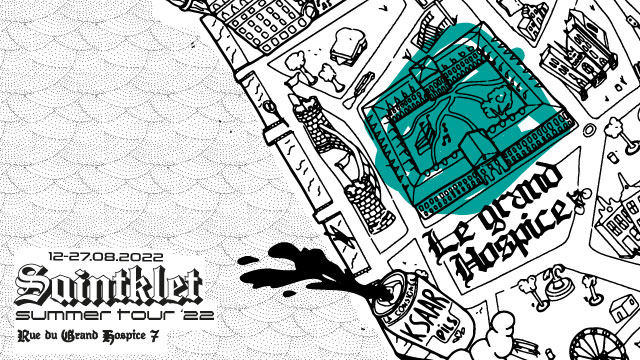 12-27 AOUT Saintklet X Distorsion Art Gallery
𝐒𝐚𝐢𝐧𝐭𝐤𝐥𝐞𝐭 '𝐒𝐮𝐦𝐦𝐞𝐫 𝐭𝐨𝐮𝐫'
From 12th to 27th of August, Saintklet promotes a series of free events where you can enjoy electronic music and diverse recreational and educational activities in various locations in Brussels.
𝐁𝐫𝐲𝐚𝐧 𝐁𝐞𝐚𝐬𝐭
Bryan Beast vit et travaille à Bruxelles. En parallèle de ses activités au sein de la galerie associative et maison d'édition E²/ Sterput, il fabrique des collages numériques, parodiant l'esthétique de l'image gravée, et crée un univers baroque qui s'exprime à travers estampes numériques et livres d'art artisanaux.
𝐋𝐢𝐧𝐤𝐬
bryanbeast.org
instagram.com/bryanbeast_art/
𝐓𝐢𝐭𝐫𝐞 𝐝𝐞 𝐥'𝐞𝐱𝐩𝐨 : « PLAYGROUND »
Bryan Beast vise la saturation des murs et propose une immersion dans un monde de jeu. Une troupe de personnages remplit l'espace d'exposition, ce sont des personnages de bac à sable, de terrain de jeu, de jeux de société. Tour à tour méchants, héros, princesse ou monstre, soldat ou pirate, bête ou divinité, les jouets et figurines sont les acteurs interchangeables d'une pièce qui n'est compréhensible que par son seul metteur en scène, l'enfant qui joue.𝐒𝐚𝐢𝐧𝐭𝐤𝐥𝐞𝐭 𝐗 𝐃𝐢𝐬𝐭𝐨𝐫𝐬𝐢𝐨𝐧 𝐀𝐫𝐭 𝐆𝐚𝐥𝐥𝐞𝐫𝐲
Located in the heart of Brussels, only a few meters away from Sainte Catherine bus stop, Distorsion Art Gallery is part of the temporary occupation project Grand Hospice.Its missions :
– Making the exhibition accessible to emerging artists and give them visibility.
– Creating links and interactions with the other occupants of the Grand Hospice, the associative and cultural milieu and the public.
– Being a place of exchange, by bringing together artists based in Brussels and elsewhere.
– Offering accessible and affordable art to the public and the amazing discoveries that go with it.
– Sharing art as a means of self-fulfillment and togetherness, beyond preconceived ideas and differences.
In short, Distortion Art Gallery aims to promote accessible, local, supportive and alternative culture in an exceptional space.An open call for artists has been made. More info on the artist showcased in the gallery will follow shortly.
𝐏𝐨𝐥𝐢𝐜𝐲
Respect and equality are key.
In collaboration with Modus Vivendi we are doing the utmost to make sure our events take place in a safe environment with room for experimentation and dialogue.A place where everyone can be themselves regardless of physical, ethical and/or theological differences.We are requiring everyone to respect each other's boundaries during our events at Grand Hospice, HuisvandeMens Brussels & skatepark des Ursulines.
𝐋𝐨𝐜𝐚𝐭𝐢𝐨𝐧
Grand Hospice, Rue du Grand Hospice 7, 1000 Brussels
𝐀𝐜𝐜𝐞𝐬s𝐢𝐛𝐢𝐥𝐢𝐭𝐲
Metro: line 1 or 5 to Saint-Catherine
Tram: tram 51 to Margueritte Duras
Train: Brussels Central or Brussels North
On foot: 1 km walk from the city centre
𝐑𝐮𝐥𝐞𝐬
The same rules apply to all locations of the Saintklet Summer Tour:
– No physical violence.
– No mental violence.
– No aggression.
– No bullying.
– No exclusion.
– No religious discrimination.
– No homo- or transphobia.
– No racism.
– No fascism.
– No hatred.
– Take care of each other.
– Take care of yourself.
– Ask for help when you need it.
𝐏𝐚𝐫𝐭𝐧𝐞𝐫𝐬
HuisvandeMens Brussel, Grand Hospice, Hospice Records, Mentality, Brussels Bassed, Ksaar Bxl, Canal It Up, Distorsion, Brasserie La Mule & Bruxelles environnement.